Favola Italian Restaurant
This vibrant eighth floor eatery serves up authentic seasonal Italian cuisine from its spectacular open kitchen. Divided into several distinct areas, guests may enjoy a cocktail before dinner in the cosy lounge or take a seat at the long rustic bar. Besides the welcoming dining area, two private rooms accommodate intimate dinner parties for up to six guests, while the impressive wine cellar can be configured to host a dinner for up to 26.
Savour Head Chef Gianni Stargiotti's tantalising pasta or sample his signature dishes including: Passatelli with cherry tomato sautéed with basil in a fava bean sauce; Crayfish filled half-moon pasta with zucchini and scampi sauce; Oven baked Turbot fish servedwith aromatic herbs and mixed fresh vegetables. Dishes are complemented by Favola's impressive selection of wines, spirits and liqueurs, while Shanghai's only traditional lever coffee machine—imported from southern Italy—brews the ultimate cup of espresso.
Children under the age of three enjoy a children's menu.
| | |
| --- | --- |
| Cuisine: | Italian |
| Dress Code: | Smart Casual |
| Parking: | Two hours parking included. |
| Hours: | 11:30 AM - 2:30 PM; 6:00 PM - 10:00 PM |
| Atmosphere: | Lively and welcoming |
| Setting: | Vibrant, intimate and stylish dining experience |
| Phone: | (86)(21) 3318 9999 Ext. 7778 / 7779 |
SPG MEMBER CAN RECEIVE 15% OFF
Grown up in Massa Lombarda, Gianni was steeped in his Italian family's deep culinary traditions. His passion for cooking started by helping his grandparents to rear poultry and grow vegetables, fruit to develop recipes back to his early childhood. His love also includes wines, schnapps, sauces and saba, in particular for their productions.

Gianni offers the pure flavor of authentic Italian food in a exquisite, chic setting. With deep familial roots in western Italian cuisines, Chef Stargiotti specializes in handmade pastas, wood-oven baked pizza, seafood and meats.

Under his culinary direction, Chef Gianni will bring a deft touch and unwavering passion to create food that is unexpected and soulful in Favola Italian Restaurant through his signature dishes and new offerings.
NEW WAVE OF ITALIAN TASTE
Favola Italian bring a whole new selection of authentic Italian favorites to treat taste buds and appeal all the senses.
Atlantic King Prawn Carpaccio with Lemon and Tomato Confit
Ravioli with Scallops, Asparagus and Bisque
Homemade Italian Style Waffle with Mascarpone and Soft Fruit
Pumpkin Risotto, Grgonzola Cheese Sauce and Nutmeg Powder
A NEW WAVE OF ITALIAN TASTE
15 May, 2016 – 31 December, 2016
Lunch: 11:30- 14:30
Dinner: 18:00-22:00
Favola is offering a newly refined take on the best in Italian food and wine. Experience Favola redefined as it features authentic Italian cuisine.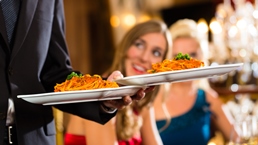 WEDNESDAY WINE SOCIAL
1 June, 2016-31 December, 2016
Every Wednesday
Lunch: 11:30- 14:30
Dinner: 18:00-22:00
RMB 188++ per person
Relax with friends or your loved ones and take in the unparalleled city views from Favola Bar. This weekly gathering offers an extensive mouthwatering selection of wines paired with daily tapas-style canapes and fine cheeses in an inviting social atmosphere.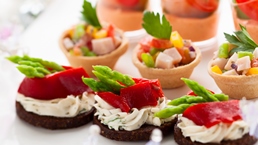 RESERVATIONS


By Phone: (86)(21) 3318 9999, Ext. 7778 / 7779
By Email: dining.shanghai@lemeridien.com
*The above prices are exclusive of 10% service charge and subject to applicable VAT.