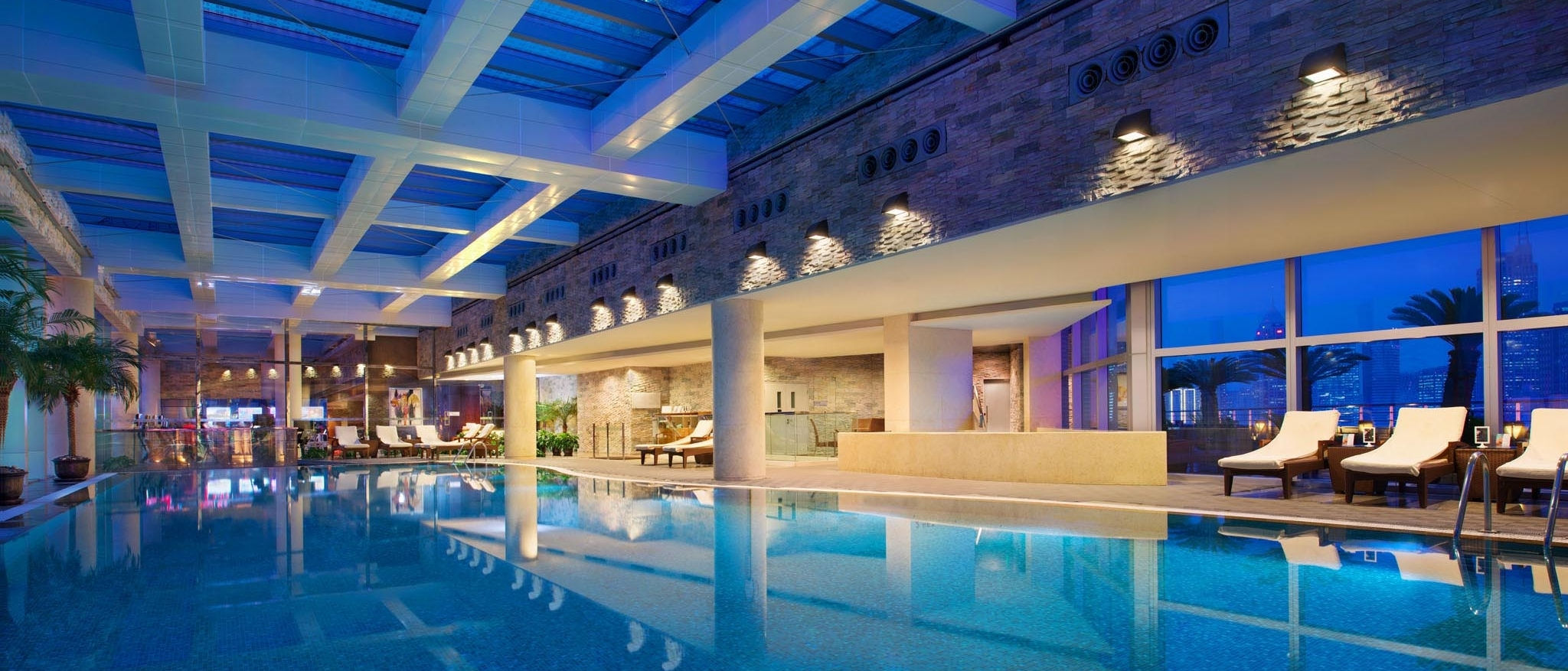 FITNESS CENTRE
Located on the 10th floor, the light-filled, spacious Fitness Center at Le Royal Méridien Shanghai has been recently refurbished, offering guests a totally new gym experience with an extensive selection of fitness equipment including the most recent gym programs.
Equipped with state of the art Technogym, Precor and StarTrac gym facilities, the Fitness Center adds nine treadmills, two bicycles, one stationery bicycle, four stride machines and two cross trainers. Each cardio machine is connected to a television monitor with free internet, for guests' listening or viewing pleasure via the TV or online. In addition, the newly introduced ARKE System, for core training, emphasizes function and coordination training more specifically, which is especially attractive for ladies.
To meet guest's individual requirements, the Fitness Center has appointed Mitch Pan as a professional private coach. Mitch has 12 years of experience in personal training and is experienced at customizing individual training programs. Guests can attend Tai Chi and Yoga classes, experience the heart-pumping thrill of a Spinning Class, or opt for the gentle intensity of an Aqua Aerobics Class.
The Fitness Center is managed by Touch Spa and is open to both the public memberships and in-house guests. Guests can book a class or schedule a private session.
RESERVATION
By phone: +86 (21) 33189999 ext. 2169
By Email: lemeridien.shanghai@touchspa.com.cn
TOUCH SPA
Siganture Products:
Spa Package Duration Price
Perfect experience 120 mins RMB 2,200
An exquisite experience of soaking your body in nourishing essence. With skillful massage from the therapist using all natural aromatherapy oils, you will enter a state of complete serenity and you will come out of the session fully-refreshed with extra flexibility to your body.
Shiatsu Experience 120 mins RMB 1,800
With the classic skills of palm pressing and shiatsu applied to the key acupressure points of your body, you will feel all the stress melting away. Our unique massage skills and specially mixed essential oil guarantee a whole new level of comfort.
Body Massage
Swedish Massage 60 mins RMB 780
In this classical Western full body massage which enjoys global popularity, the massage therapist performs rhythmic massages over your tense and exhausted muscles to promote blood circulation, remove muscular tension and pain, and bring you both mental and physical relief.
Balinese Massage 60 mins RMB 1,080
This relaxing massage, which has gone down for several generations, adopts such skills as palm pressing, kneading and acupuncture therapy to ease muscular pains, improve energy circulation and build a stronger body.
Thai Shirodhara Massage 60 mins RMB 980
This deep cleansing therapy focuses on removing dead skin on your back, leaving your back smooth and delicate. The relaxing massage around your shoulders and back helps relax muscles, ease back and shoulder pains and promote blood circulation. The unique citrus essence massage oil will eliminate your physical and mental fatigue and boost your spirit.
Lymphatic Drainage Massage 60 mins RMB 880
Lymphatic Drainage Massage, as a therapeutic treatment, uses gentle pressures and continuous, moderate and rhythmic contacts to improve the purification function of lymphatic system, increase circulation and keep toxins out of your body. Accompanied by our well-prepared herbal tea, the whole therapy will bring you genuine mental delight.
Chinese Acupressure Massage 60 mins RMB 680
This traditional Chinese-style massage involves the shiatsu massage on your acupressure points to stimulate your nerve system as well as the entire body, thus promoting health and removing fatigue.
For more information, please visit http://www.touchspa.com.cn/
RESERVATION
By phone: +86 (21) 33189999 ext. 7900
By Email: lemeridien.shanghai@touchspa.com.cn
*The above prices are inclusive of applicable VAT.